Since days of being a student in Edinburgh I have collected old postcards, fascintated by the unique and beautiful handwriting found on them, and so they have always been the starting point in my work. A good few years ago I had the opporitunity to work with the papers in a different way for a collaborative exhibition and started making collages.
Collages begin with these old found postcards and other ephemera, layered with old and new elements, painted, drawn and stitched on, with the occassional old found pin or old paper clip. I create small Fragment Collages, Postcard Collages (right) and larger Journal Collages and all can be found at my Work / Shop and in my online shop.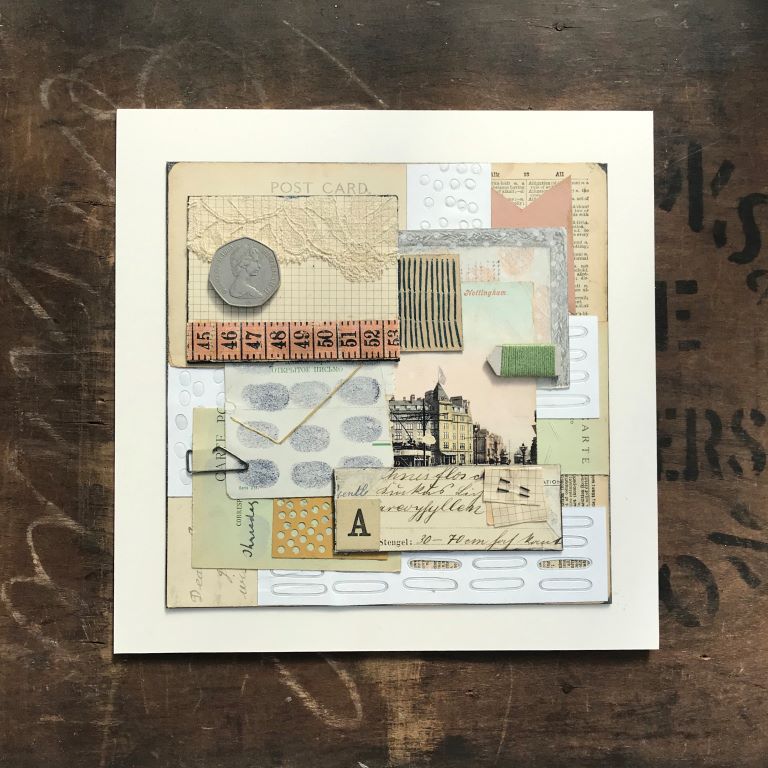 Commissions can be created using your own treasured family photos, letters etc, archiving them in to a collage you can view and appreciate on your wall everyday.
I have created collages for those who have only a few papers and wanted me to combine them with my own made elements, or people who have had more than enough, and to various sizes.
You can see one recent commission and its progress here, or get in touch for more details, prices range from £50 upwards
A collection of collages can be found hanging in the bespoke bedrooms of the beautiful boutique hotel in the centre of Manchester, the King Street Townhouse.
They have been selected for display in almost all of the bedrooms to hang along with work by other local artists and are all original works of art.
I was lucky enough to be given a tour of this beautiful hotel and you can see inside some of the rooms here
A group of 49 artists from the North West, many from Manchester Craft + Design Centre were invited to create one or more panels which, when brought together created a large mural to represent an iconic section of MCDC ironwork gates.
The individual panels represent the diverse styles and disciplines of the makers involved.
The two sections I created for this unique evopportunity reflect my collage work using ephemera with graph papers. You can follow my process here.